The twenty-first century has brought a lot of important events, however, in the past few months, one of the main topics and interests is the situation in Ukraine.
Since the situation in Ukraine occurred, the citizens of the Russian Federation (hereinafter: Russia) have faced more difficulties over time. First, their assets in some foreign countries were seized, and now Russian citizens are facing even prohibition from entering most European countries. Therefore, we can anticipate that deciding whether to immigrate and to which country, represents just some of the important questions. Considering that fact, you certainly want to know what the entry and visa requirements for Russian citizens to European countries are.
That said, we have already answered some of the FAQs from Russian citizens moving to Serbia, and now we will present you the conditions, entry and visa requirements, and some other relevant information about immigrating to Europe and Serbia, for Russian citizens.
What Is the Situation for the Russian Citizens Immigrating to the Countries of the European Union (EU)?
Generally speaking, not a bright future, at least from this aspect and at this moment. European Commission proposed full suspension[1] of the EU's Visa Facilitation Agreement with Russia. Back in the days, 2007 when it was enacted, this agreement represented the legal act for Russian citizens coming to EU countries to obtain a visa more easily. By easier, the EU implies cheaper and faster procedures, without the necessity to submit all documents that some other citizens must submit.
However, as the situation in the world becomes more and more severe, Russian citizens could face even harder procedures to enter countries of the European Union, not to mention apply for a temporary residence permit. Some of the EU member-states already banned Russian citizens, as a tourist, from entering their territory.
For example, if Ivan Ivanov, a Russian citizen, previously obtained a Schengen visa[2] in Estonia, and now wants to travel to Estonia, his Schengen visa is no longer valid, and he is banned from the country. Even if he would like to request a new Schengen visa, that also wouldn't be possible, since Estonia stopped issuing Schengen visas to Russian citizens. A similar situation can be seen in Latvia, Lithuania, Denmark, Finland, Poland, the Czech Republic, etc. Latvia is even considering prohibiting Russian citizens on approved temporary residence permits in Latvia, to renew them.
We can anticipate that Ivan Ivanov wouldn't like to face any restrictions and inconveniences once deciding to move to some of the European countries. Therefore, let us present to you the entry and visa requirements for Russian citizens who are thinking about immigrating to Serbia, and making Serbia their habitual residency.
You Are a Russian Citizen? Find Out Entry and Visa Requirements for Entering Serbia
The most important condition you should bear in mind is that you don't have to fulfill any pre-conditions or obtain a visa to enter Serbia! Russian citizens have a visa-free regime for tourist stays for up to 30 days.
This special treatment is the consequence of solid diplomatic relations between Russia and Serbia and concluded bilateral agreements between these two countries. It indeed categorizes Russian citizens as privileged ones, when it comes to the immigration aspect.
Each time you and your family enter Serbia your 30 days of tourist stay start to count from the beginning. This means that you have more than enough time to decide whether you would like to buy real estate in Serbia, open a company in Serbia, establish entrepreneurship, or find a job and get a Serbian work permit. Whatever you decide, will open you a path toward the legal ground for the temporary residence permit in Serbia.
Serbia has slightly more liberal immigration rules when it comes to immigration for Russian citizens. That can be seen from the fact of visa-free regime, the right to do business in the Serbian market as well as to purchase real estate of any kind, except for agricultural land. That said, not many countries can offer it.
For instance, citizens of Kazakhstan must obtain a long-term visa (visa D) to apply for a temporary residence permit in Serbia. They can enter the country without the need to obtain a short-term visa (visa C), however, if they plan to stay in Serbia for a longer period and apply for a temporary residence permit, they must obtain visa D.
On the other hand, citizens of India, Egypt, Nigeria, Pakistan, or Saudi Arabia need to obtain even a short-term visa (visa C) for a tourist stay, and afterward, need visa D to apply for a temporary residence permit.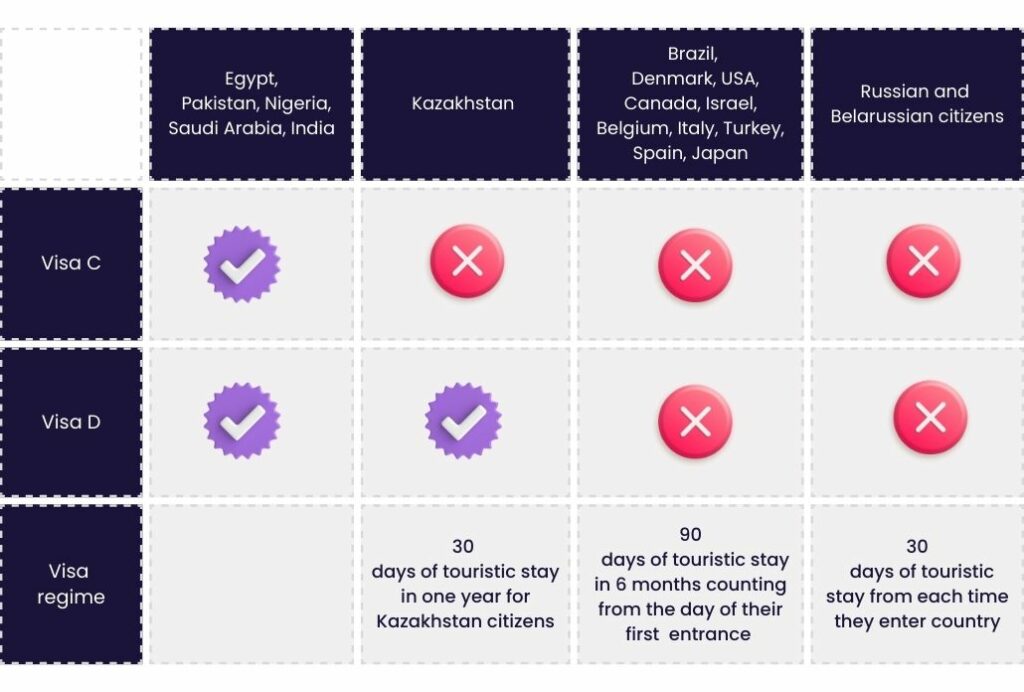 Apart from the fact that Russian citizens can visa-free enter Serbia, furthermore, they are entitled to establish companies, entrepreneurship, or become employees of a Serbian company and after that, to have the same status as Serbian entrepreneurs or employees. That can also be a useful aspect to bear in mind in case you opt for the option of immigrating to Serbia.
Ivan Ivanov can buy an apartment or house in Serbia, or he can establish a company and start performing business activities. Both options are a path toward a temporary residence permit in Serbia. Also, his wife Natalia can apply based on the family reunification with him or become an employee in his company.
On top of that, in the era of the pandemic situation with COVID-19, Russian citizens can freely enter Serbia even if they are not vaccinated, and at this moment, without the need to obtain a negative result from the PCR test.[3]
If you are looking forward to knowing what other aspects of immigrating to Serbia are, and what can you expect in the procedure of obtaining a temporary residence permit, you can always reach out to us. Once you review and analyze all entry and visa requirements for Russian citizens, and decide to come to Serbia, you will have a chance to see in person why so many foreigners find Serbia a great place for living and working.
[1] https://ec.europa.eu/commission/presscorner/detail/en/IP_22_5346
Several language versions of the agreement you can find on this link – https://eur-lex.europa.eu/legal-content/EN/ALL/?uri=CELEX:22007A0517(01)
[2] A Schengen visa is a short-stay visa that allows the holder of the visa to travel to any members of the Schengen Area (such as EU member states), for tourists or business purposes for visits for up to 90 days. It enables its holder to enter, leave and freely travel within the territory of the Schengen zone.
[3] https://www.mfa.gov.rs/en/citizens/travel-serbia/covid-19-entry-requirements